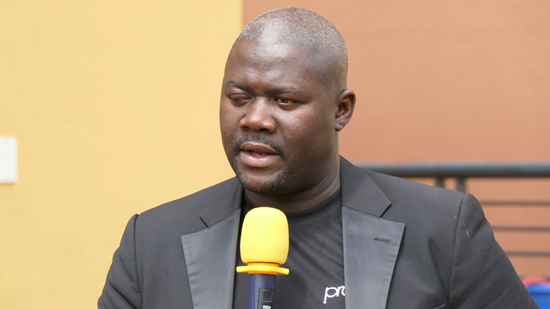 Doctor, thank you so much for agreeing to speak to us on such a short notice despite your busy schedule, so please tell us about yourself.
Ans. I am Dr Kazibwe Lawrence, an obstetrician with 10 years of experience and I have been in public service for over 15 years. I work as a deputy executive director and a clinical head at Kawempe National Hospital.
The 15 years is the duration you have worked in the Uganda's Health Sector?
Ans. I completed medical school in 2006 and I applied to become a medical officer in public service. And I first worked in Gulu, then was posted in Mbarara Regional Referral Hospital, then I was brought to Mulago and right now I am in Kawempe.
Okay, and for how long have been in Kawempe?
Ans. For Kawempe it has been 4 years. Just history, we came to Kawempe to pave way for the renovation of the new lower Mulago. The department was shifted from level 5 and we were brought to Kawempe which was a general hospital at that time. So, we came in 2016 and we have been there since that time.
Oh Okay, so who is Lawrence without the Dr. title?
Ans. I always find it difficult answer social questions since most of the time I am at work, but I am fun loving and I focus on how do I give back to the public; so I am part of Lions Club and I am a Lion not a Rotarian because there is a difference and I joined while in Mbarara but now I sometimes sit with the people of Kampala. So outside work that is what I do, it is socializing and giving back to the community. I am not much of fun person; I watch football once in a while and I sometimes go swimming but not so much and I almost have no social life. As you can imagine, as a clinical head, i have to oversee a number of things and this affects my social life.
How do you cope without having a social life?
Ans. Well sometimes you must adjust and understand the calling, serve and most of the time you coordinate, work with other people to take on somethings on your behalf so that you can have sometime on your hands and relax and rest but most of the time I choose to stay home and rest. So mainly we work together and rely on team strength and great support from the Ministry keeps us moving as medical personnel and leaders.
Do you have a routine?
Ans. You must have a routine my friend; 5.30am you are up, concurrently preparing for work and watching the news. 6.30-7am you should be in hospital reading reports from the night supervisor, intern doctors/Senior House Officers, and nurses report. At times because of the nature of our work you may not find the reports because people are still working and all you get is the nurses report because our women usually come in between 4am and 9am so people are still working, and you keep reviewing as they come. Between 9am-11am I do a briefing with the hospital director. We used to have 24 hours daily review meetings but due to COVID 19 they were called off. In the afternoon I am always on duty, I do day and night duties in a week I do 2 days supplementary to these are clinic and surgery days then do perinatal and maternal death reviews.
Speaking of deaths, in your opinion what are the leading causes of maternal deaths in Uganda?
Ans. The leading causes are obstetric hemorrhage, sepsis, complications from obstructed labor, eclampsia, mismanaged abortion cases and sometimes we have ectopic gestation. Those are ranked as the direct cause of maternal deaths and the indirect ones include HIV, malaria and now we have COVID 19 as well.
Have you handled any COVID 19 cases?
Ans. We have handled such cases and the indirect causes brought up the preventive measures where mothers came to seek care late or never came given the fact that they had to seek permission from RDCs to move. Others could not come to hospital because they feared contracting COVID 19. Some that succeeded to come at the beginning of COVID 19 did not receive treatment because very few health providers were working but also providers feared to treat them. There are some cases I have to handle myself and because the person is COVID 19 suspect and the nurses fear them.
What changes did COVID 19 come with?
Ans. Let's start with the beginning of the lockdown. Transport was heavily affected for both patients and health providers. The first 3 days were heavy on us as hospital administration. Because everybody kept off the station assuming that they had all been stopped from travelling, fear of arrest because not all medical personnel were given stickers those at the station were overwhelmed by the numbers of patients but also the fear of COVID 19 and for some others it was a blessing in disguise because they never wanted to come to work. So, as a director that was the toughest time of my work life. We also found challenges with the PPEs we had all the money to buy but couldn't access the PPEs so that was a challenge as well because without these PPEs we could not provide services.
We received support from different actors in terms of PPEs but some of them gave products we didn't have knowledge on how to use them. Now you are here you have the PPEs but you cannot use it because don't know how to. We didn't know how long one must stay while using a mask, should be won and disposed of after 24 hours, can it push further things like that, and this posed a lot of challenges. April was very difficult for us and the hardest in my professional life but now we have learnt to live and operate within the pandemic times. Yet until now we are still facing the effects of COVID 19 lockdown because mothers did not come to hospital then, they are now flooding the hospital and now the hospital is congested with a lot of cases seeking care. But also, people conceived so much during the lockdown and it is a very big toll on us.
We also lost some staff during these community transmissions and most of us have failed to cope with this for example the death of Dr. Charles Kiggundu. The hospital director particularly and many other staff have not recovered from this sad news and this has drained the workforce so much.
During the overwhelming time, did you engage VHTs in any way?
Ans. As a referral hospital we don't work closely with VHTs given that there are community health institutions but with the local government, we worked directly with the KCCA department of health – Dr. Okello and his assistant, Zalwango so were able to coordinate transportation of patients and the movement of health providers because they had given us vehicles and in Wakiso we mainly worked with the acting DHO and lastly the in charges of these facilities. But community wise we are planning on having a community department and we shall be recruiting the community department officer very soon for community diagnosing among other issues.
Now elections, you have COVID 19 and the elections in the mix, how have these affected your work?
Ans. As health providers we are nonpartisan because we are supposed to provide essential services and we are public servants. We were not affected at all apart from what we saw in the November riots where we handled non-gravida cases that were hit by stray bullets who we stabilized and sent to Mulago.
You didn't have cases where mothers failed to come because of campaigns and the like?
Ans. We have not had much effect and nothing much happened, so we were not affected in any way.
The Future of Maternal Health, where do you see maternal health in 10 years to come with all these challenges that arise like COVID -19 and others?
Ans. That is an interesting question! I would share it in the global perspective because I have a lot of funding coming in, there has been prioritization of maternal health by donors like UN, USAID, Bill and the Bill and Melinda Gates Foundation and other first world bodies, so globally with the funding that is coming in there will be a great improvement. And if we invested almost similar funds like those that were invested in HIV, maternal health would be in a much better position than it is in right now. Coming back to Uganda, we pray for the much needed political will because the resources are there and all we need is the political will. And I am glad in the recent address the president was advocating for access to free health for all and there seems to be a good political will to invest.
You mentioned several challenges earlier, and if you were in position of power what would you do differently?
Ans. There's my vision and the teams one is supposed to work with so there is need for all of us to work together as I mirror it in my vision, and all this should be pro-people and most importantly accommodating the poorest people at the grassroots. Most importantly you have to study the whole picture and making decisions according to that.
Alright, thank you so much for your time.
Ans. Thank you too and I would like to appreciate the team you work with at Makerere University because they make it easy for us to understand the challenges at hand. They have ways of articulating issues through their studies that us in the medical field wouldn't do. So, we are really appreciative for the job well done for and all the advocacy and articulation of issues.