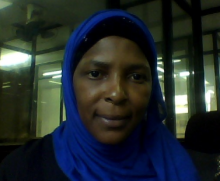 Dr Haawa Nyende | Maternal mortality is a major problem especially in developing countries. Maternal deaths are partly attributed to the limited access to healthcare and a shortage of medically trained health professionals who can provide maternal healthcare service. Approaches have been adopted to improve the access to and quality of healthcare. The approaches include strengthening healthcare systems by improving numbers and skills of the healthcare workforce, and supporting the limited number of medical professionals with IT. However, the approaches have been challenged by quality of care and limited infrastructure. The quality of healthcare can be improved through transforming healthcare, by managing and organizing care on a value-based system.
This thesis considers the value-based system approach. The approach advocates for a shift from healthcare provider-centered care to care that involves multiple actors who interact and integrate resources to co-create value, in order to benefit themselves and others. The value-based system requires health information technology innovations that create opportunities for the many actors, including healthcare professionals, patients, family care givers and community health workers, to integrate resources thereby co-creating value. Information Technology (IT) has been identified as a key driver for actors to co-create value however, the way in which IT can drive value co-creation in healthcare has not been fully explored. Consequently, the overall aim of this thesis is to enhance knowledge on how IT as a resource contributes to value-based maternal healthcare in low-resource settings.
I feel happy about the findings from the study. The study enhanced my knowledge on the role of IT in the transformation of healthcare to achieve value-based healthcare. Findings in this thesis shed light on the empirical understanding of the practices in maternal healthcare that include institutions and structures, and, the existing IT infrastructure that support actors to co-create value. In addition, empirical insights on opportunities in which IT can be designed and used to achieve value-based maternal healthcare are provided. Lastly, findings provide insights into value as perceived by actors at various levels when they use IT to engage in co-creation activities in maternal healthcare.
The thesis contributes theoretically to information systems research by enhancing knowledge on the role of IT in service innovation. Particularly, this thesis contributes by identifying three aspects in which IT triggers value co-creation. Aspects include recreating relationships among actors, transforming actor capacities and re-organizing tasks in maternal healthcare. Thus, the thesis identifies the importance of IT in resource integration that leads to value. In addition, the interplay of all the three aspects extends understanding on the dynamics and transformative perspective of the service ecosystem that is required to achieve value-based maternal healthcare. Practically, the thesis contributes to value-based maternal healthcare by identifying managerial implications in the structural and functional roles of IT that overcome opposing demands in the co-creation activities at various levels of healthcare. Another implication is the digital infrastructures that communicate value propositions and provide resource-rich service platforms for resource integration. Lastly, the thesis contributes to policy by suggesting implications on applying task-shifting strategy in low-resource settings and, technology use and designs that support professionals and non-professionals in the task-shifting strategy.
Field research included lots of hard work to collect data from Uganda and Sweden. Data in Uganda was collected from health workers, village health team members, pregnant women and mobile application developers and users. While data in Sweden was mainly collected from health workers. The main challenge was to gain ethical approval to facilitate the data collection process in Uganda. Despite the fact that my proposal had been approved in University of Gothenburg, Sweden, the ethical approval process in Uganda took about seven months until a point when I had to adjust my research plan. This was a set-back since it delayed some of my publications. Other challenges were mainly transport to the health facilities. I recall on incident when I travelled to Kanugu and the bus broke down on my way back. It was getting dark and there were no other means of transport to get me out. Also accessing some of the health facilities required getting on a boda boda which was sometimes unavailable and costly. Despite these challenges, I enjoyed working with health workers in various districts in Uganda and I learned a lot from them especially on how they use IT in healthcare.
One of the requirements to the research was to publish at least 5 publications in top information systems conferences. It was not easy to catch up with the deadlines and to obtain the quality and standard needed in such conferences. In most cases when I submitted by papers, there was always a 50/50 chance that my paper would be accepted. I can say that I am very fortunate that I made it. I thank God for this. I have gained a lot of experience in publishing as well as presenting to large groups of professionals. I was part of the Swedish Research School of Management and IT (MIT). MIT always organized bi-annual conferences in which students from various Universities in Sweden submitted their working manuscripts for review. The review process and presentations at MIT greatly improved my work through the feedback I obtained. I thank the University of Gothenburg, department of Applied IT for having this collaboration that greatly contributed to my success.
All in all, the study opened up collaborations with various researchers and professionals in both the IT and health field. This provided an opportunity to share my research findings and also learn about similar research in the field of health informatics.
About the Author – Hawa Nyende
Dr. Nyende was born and raised in Uganda and recently defended her PhD thesis from the University of Gothenburg, Department of Applied IT, Sweden. She has worked in business and academic area using her knowledge of Information Technology. Dr. Nyende has more than eighteen years of IT and training experience ranging from United States Government contracts to university activities. She has a proven ability to work effectively in multi-cultural environments, manage diverse staff and meet program goals and objectives. Her experience in the African and European region, and in conducting research in maternal healthcare brings added value to healthcare. Nyende's PhD research aims to enhance knowledge on ways in which IT as a resource contributes to value-based maternal healthcare in low-resource settings.
Dr. Nyende has conducted research in the use and design of IT for healthcare in Uganda and Sweden. She has also published articles in Information System conferences including the European Conference on Information Systems (ECIS), Hawaii International Conference for Systems Sciences (HICSS), the International Federation for Information Processing (IFIP) and the Information Systems Research Seminar in Scandinavia (IRIS). Dr. Nyende's PhD study was funded by Sida under the BRIGHT project. She was supervised by Jonas Landgren, Urban ask, Berner Lindström from the University of Gothenburg and Peter Nabende from Makerere University in Uganda. Details about her work can be found at http://hdl.handle.net/2077/64184