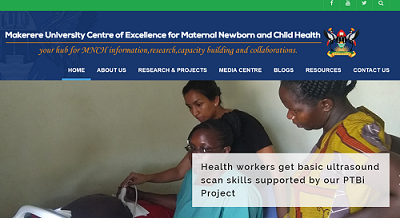 To commemorate our 100th e newsletter issue today, we would like share with you our journey of where it all started, what we're doing and what we expect to do to continue saving the lives of the mothers and the newborns. Here is our story:
In 2013, the Makerere University School of Public Health (MakSPH), together with Save the Children's Saving Newborn Lives program (SNL) in Uganda, established the Makerere University Centre of Excellence for Maternal-Newborn Health Research (CMNHR). The purpose of establishing the CMNHR was to strengthen the links between knowledge, policies, and implementation of MNH programs through generating local evidence based on local priorities that could support the implementation and scaling up of MNH services.
Later in 2017 an evaluation was conducted by Save Children to assess the Center's activities and sustainability plans. The Report found that the CMNHR provides an example of how a Centre of excellence for MNH research can contribute to strengthening information, research and capacity building. With supportive individuals and institutions, appropriate investment, and buy-in from key stakeholders, a Centre of excellence has the potential to contribute to evidence-based knowledge, policy, and effective implementation at scale.
To date the Centre has over 30 ongoing and completed projects with a special focus on improving maternal newborn and child health. The projects have benefited rural and urban dwellers across the country. Regionally, the Center has created strong and sustainable bonds with researchers across Africa under their projects like the Count Down 2030, MCHN Activity, Preterm Birth Initiative, among others. Globally, the Centre has strong partnerships with Maternal Newborn Health experts and together we are saving lives. Moreover, Center has gone an extra mile to partner with private sector to reach out all mothers and their social networks through our health-related TV show The Health Pot. This show was birthed by our partnership with Family TV Uganda.
Our international internship program has benefited many young adults attain skills they require for the job market. It provides hands on experience with support from renown experts who implement the Centre projects majority of whom are PhD candidates seeking evidence on the most pressing issues in a way of developing human capacity to serve.
With these achievements the Center has several prospects some of which are shared in this short video.
Through partnerships we are looking at:
Designing evidence based accredited online short courses informed by studies
Design and run a state-of-the-art multidisciplinary innovation research hub to serve the whole of Africa and beyond.
Strengthen our partnership with the private sector to support them appreciate philanthropy and support noble causes.
Watch out for the next blog!