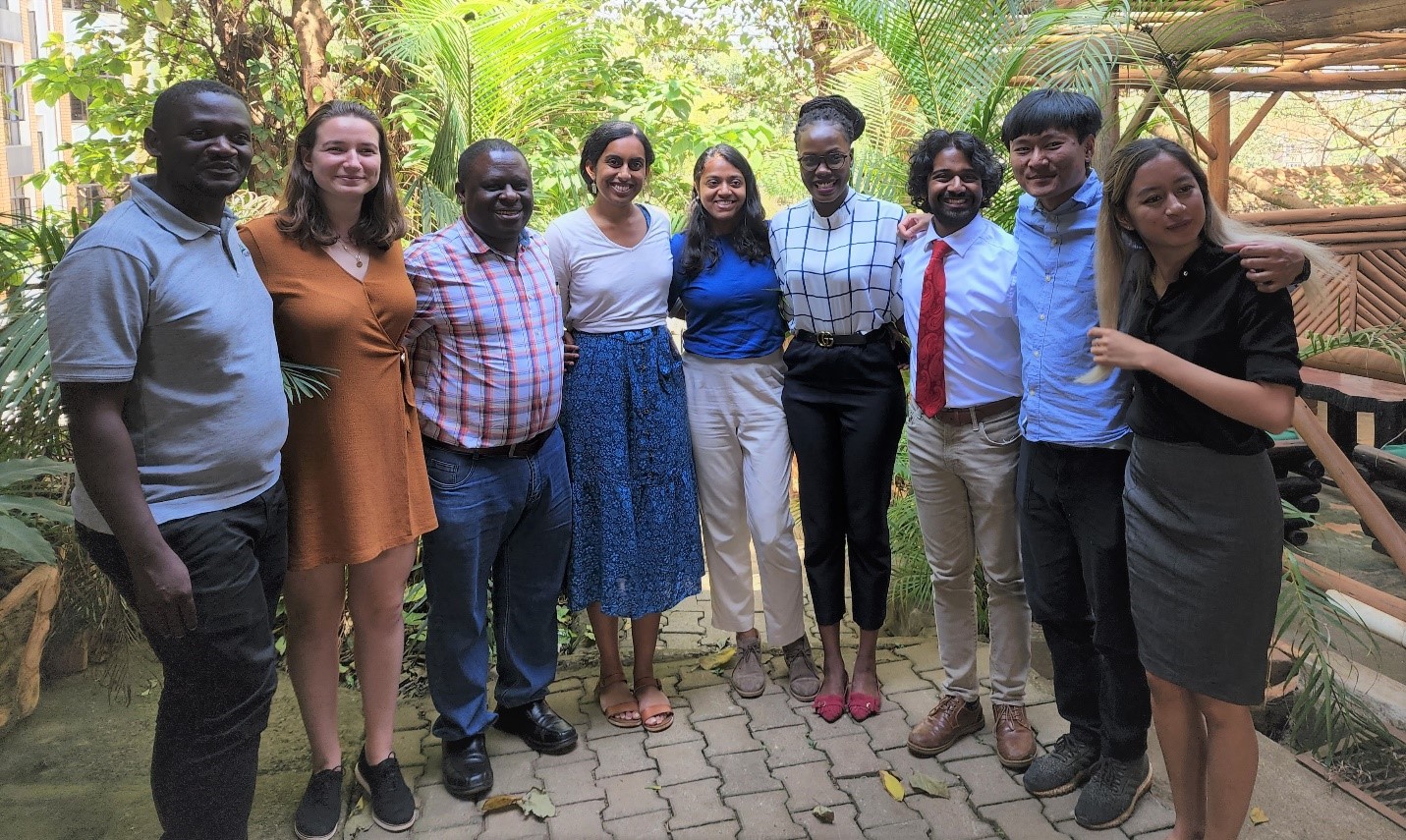 Makerere University through the Makerere University Centre of Excellence on Maternal Newborn and Child Health under Makerere University School of Public Health hosted a team of visiting biomedical engineering graduate students from John Hopkins University whose aim was to do a needs assessment around maternal and child health in Uganda.
The team was led by Prof. Soumyadipta Acharya who is the graduate program director of the Johns Hopkins Center for Bioengineering Innovation and Design (CBID) and an assistant research professor of biomedical engineering at Johns Hopkins University.
During their visit, Prof. Acharya looked forward to discussing the CBID collaboration, women's health project direction, areas for innovation, the landscape of ongoing maternal health data collection initiatives (women's health team), and also to discuss VectorCam.
The team was divided into two sub-teams, the women's health group which was looking at innovations around maternal and child health, and the VectorCam team which focused on showcasing their clinical (or public health) need-driven innovations on malaria using a VectorCam.
They were much interested in designing healthcare technology solutions that address pressing clinical needs, and show potential market sustainability, and technological feasibility for improving maternal and newborn health in Uganda hence they looked at doing this with the help of the Centre researchers.
The students further desired to collaborate with the center researchers so that they can start up some sort of project that uses technology to address some unmet needs across maternal and newborn health.
Adding to that, they were also interested in getting to learn more about the Centre researcher's work, challenges, and potential areas for technological innovation within maternal and newborn health.
The Women's Health team was able to visit some health facilities which included Kawempe National Referral Hospital, Jinja Regional Referral Hospital, Iganga District Hospital, Busesa HC IV, Busowobi HC III, and Nabidongha Prisons HC II.
Continually, the team interacted with village health teams and Traditional Birth Attendants with this, they were able to narrow down the scope of the needs assessment in maternal health, breast cancer, and infectious disease starting needs.
The Women's Health team went ahead and performed a root cause analysis for maternal death and it was found that Antepartum haemorrhage (APH) is the major cause of maternal death.
By the time they were done with fieldwork, they managed to develop innovations that would provide solutions to the above-mentioned challenges.
To also have some of the developed innovations disseminated, the team with help of Centre researchers organized hybrid a seminar that was hosted at Makerere school of public health.
Titled: "Healthcare technology innovation for global health impact- from idea to implementation (and lessons learned,)" Prof. Acharya presented a model of healthcare innovation which is being followed at the Johns Hopkins Center for Bioengineering Innovation and Design.
During his presentation, he had an opportunity to share several examples of clinical (or public health) need-driven innovations that were started by multidisciplinary teams of engineers/ clinicians/ designers/ entrepreneurs- and iteratively developed from early ideas to prototypes to implementation.
Towards the end of his discussion, he interacted with the physical participants and elaborated on how to operate the VectorCam.
According to Prof. Peter Waiswa who is the Team leader of the Makerere University Centre of Excellence on Maternal Newborn and Child Health, "this is unusual research from our perspective because they start with the problem, understand the problem, and engage stakeholders observing in an interactive way, unlike the research we do here where we end up describing the problem."
"Their research goes further to identify innovations that can solve the problem and most interestingly these students are developing technologies and want to do it with me and my team at the Centre in a participatory process, so there is a lot of learning from identifying the solution to the problem and this is a contribution because they find a new way of solving problems and this beneficial to the academic staff here, students and society in general," noted Prof Waiswa.
He added: "By the time John Hopkins University students left they had developed some innovations but we must understand this is work that will take time and requires brains, collaboration, and access to resources both financial but also skills and knowledge, and laboratories."
He said the next steps are to come up with these solutions, learn together and merge skills. "I hope these solutions can be applied one day so real-world problems are to benefit, everyday people and so we are to learn from them as Makerere."
By Amoit Judith Grace