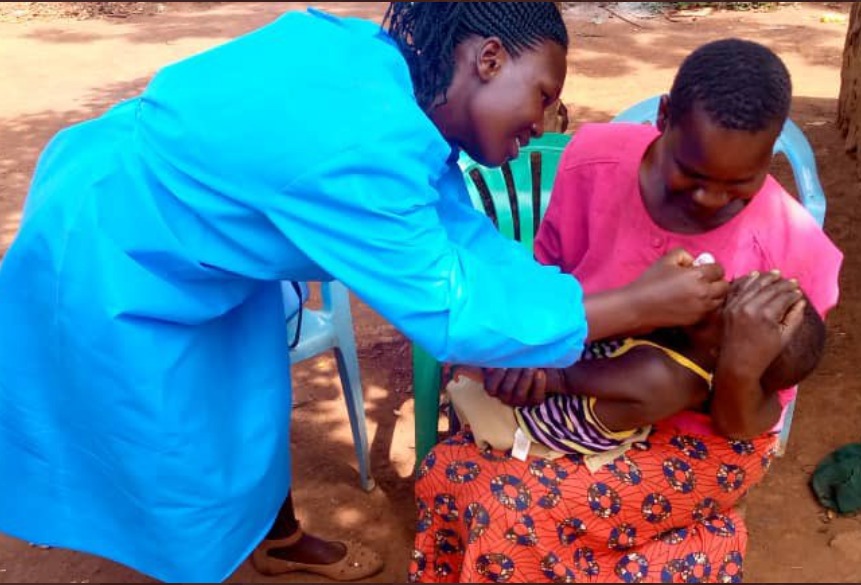 The Uganda Ministry of Health together with other implementing partners Centers for Disease Control and Prevention (CDC), World Health Organization, and UNICEF have launched the second polio immunization campaign across the country.
The polio mass campaign kicked off at the Golf course hotel, focus will be put on promoting a healthier future for mothers and children and keeping Uganda polio-free
The national house-to-house mass polio campaign will run from the 4th -the 11th of November 2022 targeting an estimated 8.7 million children below five years of age.
Unfortunately, due to the outbreak of the deadly Ebola virus, Five Districts are to be excluded during the polio vaccination exercise and these include districts of Kampala, Mukono, Wakiso Mubende, and Kasanda. Revealed Hon. Ruth Aceng, Minister of Health.
"I call upon all parents, guardians, partners, and local government to run behind all the efforts necessary to ensure that every child is reached," Added Hon Ruth Aceng.
On the same note, Dr. Alfred Drewali, the UNEPI, program manager Ministry of Health during the launch of the house-to-house polio vaccination campaign pointed out some of the challenges the program has faced over time.
"We are battling with the challenge of having about 2.2% of children born in a year not reached with vaccines at all and that's what we need to achieve," said Dr. Drewali.
The first national immunization campaign, carried out in January was recommended by the Ministry after a polio variant virus, was detected from fecal matter samples collected from the Kampala environment.
The Ministry of Health warned that it was the rare wild poliovirus type 2, whose vaccine was withdrawn from the country's routine immunization exercises in 2016.
Understanding polio in children
Polio is a very contagious disease caused by the poliovirus. Most children who are infected with polio have no symptoms, a few have mild symptoms.
The virus spreads from person to person and it is most known for attacking the nervous system and causing paralysis. But very few children with polio develop paralysis.
There are 3 types of the virus. It often spreads through contact with infected feces (stool). This often happens when children don't wash their hands or don't wash them correctly. It can also happen from eating or drinking food or water that has the virus.
It can be spread when an infected child coughs or sneezes infected droplets into the air. The virus can also be in a child's stool for several weeks. Children are most contagious right before and right after symptoms start.
Common poliovirus symptoms include; Progressive muscle or joint weakness and pain, fatigue, muscle wasting (atrophy), and breathing or swallowing problems.
Additionally, sleep-related breathing disorders, such as sleep apnea and decreased tolerance of cold temperatures.
According to the CDC and the World Health Organization (WHO), of those people who do acquire the infection, 1 percent or fewer may develop the paralytic disease.
The only way to prevent polio is through vaccination and the World Health Organization and other partners continue their efforts to eradicate the virus worldwide to achieve zero status.
By Judith Grace Amoit