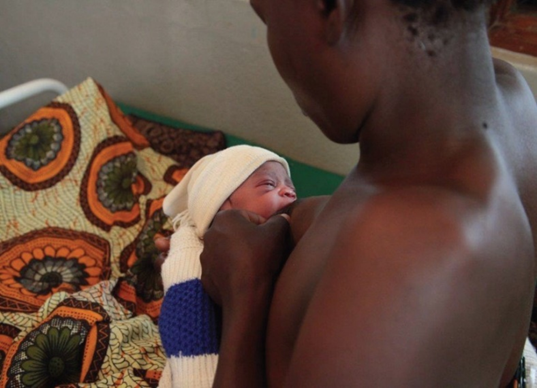 By Judith Grace Amoit
KAMPALA– Newborn experts stress the need to intensify efforts aimed at saving newborns around the time of birth, according to recent developments in Uganda's healthcare landscape. Results from the newly released Uganda Demographic Health Survey 2022 show that neonatal mortality has slightly reduced from 27/1000 live birth over the last decade to 22/1000 live births. Unfortunately, majority of these babies die around the time of birth from preventable causes that could have easily been averted using known interventions.
Nsambya Hospital, in collaboration with Mengo and Lubaga hospitals and with generous funding support from the Elma Philanthropies, launched a 3-year project code named 'RIB.' This acronym which stands for neonatal Resuscitation, Infection prevention and Breast feeding signifies a comprehensive approach to improving neonatal care right from the time of delivery to post-delivery.
Led by Dr. Victoria Nakibuuka, a neonatologist/pediatrician based at Nsambya Hospital in Kampala, Uganda, the project aims to improve neonatal outcomes through establishment of designated resuscitation teams, use of donated human milk, and quality improvement methods for infection control in the neonatal units in selected Hospitals across Uganda. The RIB project, which began in 2020 is currently being fully implemented in three hospitals including Lubaga, Mengo, and Nsambya hospitals in Kampala. Additional two hospitals (Naguru and Kibuli) have recently been brought on board for phase 2 of the project. The main project interventions include training of health workers in neonatal resuscitation and infection prevention and control, instituting infection prevention measures in the neonatal care units and supporting mothers to exclusively breast feed their babies.
Through a series of baseline, midline and endline studies, the project has already made significant strides in reducing newborn mortality rates. These efforts have led to a 29.2% reduction in neonatal mortality in Lubaga, an 11% decrease in Mengo, and a 20% drop in Nsambya, just short of the project's 30% reduction target.
During the dissemination of project findings at Hotel Africana in Kampala, Dr. Victoria stressed the importance of doubling efforts during the critical moments of childbirth to reduce neonatal mortality in Uganda. A similar approach has been effective in reducing maternal mortality. The statistics underscore the urgency of the project mission, with 2.6 million global neonatal deaths annually, half of which occur in Africa.
The findings highlighted that preterm birth and childbirth-related complications such as birth asphyxia, hypothermia, and sepsis are major contributors of neonatal deaths. The World Health Organization reports that 75% of neonatal deaths occur within the first week of life, with approximately 1 million newborns dying within the first 24 hours in 2019.
Globally, while there has been progress in child survival rates since 1990, the decline in neonatal mortality has been slower compared to post-neonatal under-5 mortality. A systematic review across African countries revealed that a staggering 77% of neonatal deaths happen within the first week of life, with 44% occurring on the first day. This data underscores the critical need to enhance the quality of care provided during childbirth.
Dr. Victoria emphasized that while neonatal intensive care units (NICUs) are crucial, the key to success lies in improving care during the birthing process itself. To make a significant impact, there is need to address birth asphyxia which remains a significant contributor to neonatal mortality in Uganda for more than 15 years.
The project's impact is evident in the statistics presented. Cumulatively, a total of 133 healthcare workers in the three hospitals have been trained in neonatal resuscitation and infection control, leading to the successful resuscitation of over 7,600 newborns, a remarkable achievement. Furthermore, efforts have resulted in a 20% reduction in neonatal mortality, reducing the rate from 4.4% to 3.5% in Nsambya hospital and; 29% reduction from 4.8% to 3.4% in Lubaga hospital. Adherence to infection prevention and control measures also saw an improvement, rising from 40% to an impressive 96% in Nsambya and reaching a perfect 100% in Mengo and Lubaga hospitals. The data also revealed that 44% of all Cesarean sections were successfully resuscitated by the special Neonatal Resuscitation Teams (NRT), further highlighting their expertise and dedication. The NRT whose aim is to specifically resuscitate babies in theatre comprises of a medical officer and two midwives.
Based on the successes seen, the RIB project is now scaling up these interventions beyond the initial 3 hospitals to two other hospitals- Naguru and Kibuli hospitals.
Dr. Andrew Ssekitoleko, the CEO of St. Francis Nsambya Hospital, praised the RIB project for its scalable design, recognizing its potential to benefit other hospitals as well. There is need to distil the learnings from this project and disseminate widely for uptake by the Ministry of Health and other hospitals/health facilities. It is also crucial for doctors and nurses to work together and have skills transferred to midwives as evidenced in the RIB project. Saving babies takes a multidisciplinary effort involving obstetricians, paediatricians, neonatologists and midwives/nurses.